Meet Dr. Broadway
Dr. Kristin Stultz Pressley is a Musical Theatre Historian – and one of Broadway's biggest fans. A passionate and energetic presenter, Pressley has taught theatre at every level – from pre-school to university. She earned her graduate degrees from the University of Kentucky (Master of Arts in Theatre, 2005) and the University of Georgia (Doctor of Philosophy in Theatre, 2011) and subsequently taught Theatre courses at Presbyterian College (Clinton, SC) and Furman University (Greenville, SC). 
Dr. Broadway is available for speaking engagements. Please contact her for rates and availability.
Dorothy Fields and Her Life in the American Theater
Richard Rodgers, Oscar Hammerstein, Jerome Kern, Irving Berlin, and . . . Dorothy Fields. These are the giants of the golden age of musical theater. Although she may not be as well known as her male counterparts, Dorothy Fields was America's most brilliant and successful female lyricist, who for five decades kept up with the greats.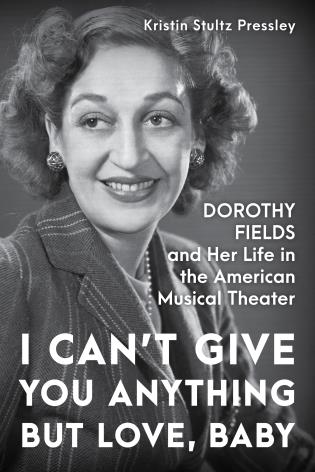 Writer & Speaker
Outside of her more than ten years' of classroom experience, Pressley is a sought-after writer and speaker. For her research on the life and work of Tony Award-winning lyricist / librettist Dorothy Fields, she was awarded the Bruce Kirle Emerging Musical Theatre Scholar Award. She has also won the following of audiences who regularly attend one of her lecture series hosted by several theatres in the Southeastern United States.
Educator
In addition to the Lecture Series, Pressley has worked (in tandem with Greenville, SC's Peace Center for Performing Arts) with New York-based organizations like Camp Broadway and the Broadway League to bring musical theatre education to high school students. 
There is nothing else she'd rather do.
"Stephen Sondheim famously wrote, 'Work is what you do for others; art is what you do for yourself,'" Pressley said. "That's exactly how I feel about what I get to do as a Musical Theatre Historian. I can honestly say that I don't 'work' a day in my life; it is one of the great pleasures of my life, educating theatregoers in order to enhance theatregoing."