Dorothy Fields and Her Life in the American Theater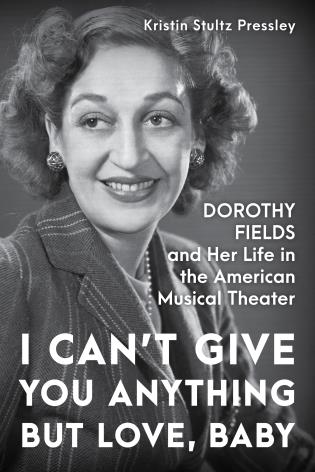 Pick up a copy at your favorite local bookseller or visit one of these online retailers.
I Can't Give You Anything but Love, Baby
Dorothy Fields and Her Life in the American Musical Theater
Richard Rodgers, Oscar Hammerstein, Jerome Kern, Irving Berlin, and . . . Dorothy Fields. These are the giants of the golden age of musical theater. Although she may not be as well known as her male counterparts, Dorothy Fields was America's most brilliant and successful female lyricist, who for five decades kept up with the greats.
As one of the only women among the boys' club of popular song, Fields was welcomed by her fellow male artists, who considered her as both an equal and a beloved colleague. Working with thirteen different composers, Fields wrote the lyrics and/or librettos for unforgettable masterpieces, such as Annie Get Your Gun, Redhead, and Sweet Charity. Her more than four hundred songs include the standards "On the Sunny Side of the Street," "Pick Yourself Up," and "The Way You Look Tonight," among other classic tunes.